Tremont's Zubal Books preserves the written word and a 60-year-old literary tradition

The Land article by Collin Cunningham
Published: February 24th 2022


A lot of people think of us as one of Cleveland's best-kept secrets and we've been here for about 50 years so we're in it for the long haul...
View article on The Land website.
---
The Book Seller
Michael Zubal, co-owner of Zubal Books, has amassed one of the largest book collections in the country, clocking in at over 1 million books. He's spent his life surrounded by the printed word and with those that cherish it. He is, The Book Seller.

By NEOhioLife
Published: February 2022


---
Book Brothers Episode 11

Book Brothers Episode 11
Released: December 3, 2021


The biggest book deal (conclusion) / What makes a book valuable?
Listen to the Book Brothers Podcast
---
Book Brothers Episode 10

Book Brothers Episode 10
Released: August 18, 2021


In our 10th episode Michael and Tom discuss the biggest book purchase of their lifetimes, what makes a book rare or valuable, and the challenges of entering the used book business in the 21st century.
Listen to the Book Brothers Podcast
---
Book Brothers Podcast - Episode 9

Book Brothers Episode 9
Released: April 25, 2021


In episode 9, Michael recounts his near-death experience in a wintery maelstrom with a van full of books and Tom provides a breakdown of his recent book trips to St. Louis and Los Angeles.
Listen to the Book Brothers Podcast
---
Book Brothers Podcast - Episode 8

Book Brothers Episode 8
Released: February 22, 2021


Michael and Tom Zubal (The Book Brothers) veer from their usual path and bring on special guest renowned book collector Michael Zinman to set the record straight regarding an important 1990s rescue of tens of thousands of printed artifacts from the New York Public Library. Aside from sharing rare insight and first person experiences with The Brothers, Zinman appears in the recent film "The Booksellers"
Listen to the Book Brothers Podcast
---
Book Brothers Podcast - Episode 7

Book Brothers Episode 7
Released: November 29, 2020


The art of the book deal in the 21st century - Rock n' Roll, leather, and movies
Michael and Tom Zubal discuss 2 local deals that involve rock n' roll lifestyles and several trips hauling the goods as well as a major purchase of several thousand pristine Easton Press books on the East Coast. They also share their thoughts on the movie "The Booksellers"
Listen to the Book Brothers Podcast
---
Book Brothers Podcast - Episode 6

Book Brothers Episode 6
Released: April 14, 2020


50,000 Books on an Island
Michael and Tom Zubal discuss a purchase of 50,000 books on a remote island and chat about scholarly, rare and collectible books.
Listen to the Book Brothers Podcast
---
Book Brothers Podcast - Episode 5

Book Brothers Episode 5
Released: January 10, 2020


Michael and Tom Zubal discuss their recent adventures buying and selling scholarly and rare books. Among other topics, Michael recounts a horrific episode in San Francisco, and Tom discusses the Easton Press market as well as Amazon's refusal to remove the millions of fake, duplicate book pages which deceive customers into spending more than they should.
Listen to the Book Brothers Podcast
---
Exclusive Interview - Detroit Bookfest
Zubal Books in Cleveland has over 3 million books: Touring the family business with co-owner MICHAEL ZUBAL!
Read the article published July 19th, 2019 on the Detroit Bookfest Website.
---
Zubal Books mourns the passing of Anthony Bourdain
Zubal Books mourns the passing of gourmand, adventurer and wonderful human being, Anthony Bourdain.
View Channel 3 News tribute here.
---
Book Brothers Podcast

Book Brothers Episode 3
Released: September 21, 2016


Highlights include a chaotic visit to Queens involving several thousand books, an introductory course on BOOKJACKING LEVEL II (Amazon's involvement??) , a recap of Michael's talk at a seminar on stealing books, and other adventures unique to the Book Brothers!
Between Michael and Tom Zubal, they have over 70 years of experience in the used book business. Zubal Books, founded by their dad, John, in 1961, has been a giant in the scholarly, rare, and out-of-print book business for decades. Now, for the first time, the brothers reveal secrets of the trade, tales of book hauls on the road, and other insights on this ancient vocation. Every episode will educate you on what books are valuable, introduce you to some of the amazing characters that the Zubals have worked with over the years, and just let the boys unload about things in the book trade that make them smile or give them the feelings that their heads may explode!
Listen to the Book Brothers Podcast
---
Special Offers
Sign up for our daily, Weekly and monthly special offers. Stay up to date on the latest collections and special offers.
Don't have an account with us yet? No worries - simply give us your email address, we'll add you to the Special Offers Email List.
---
Cool Spaces: Penthouse atop West Side warehouse is frozen in time.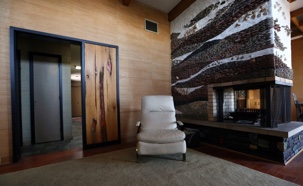 CLEVELAND, Ohio - - In 1954, The Plain Dealer Sunday magazine featured a flattering article about a new, upscale penthouse built on top of an existing book warehouse on West 25th Street.
"People love it when they come up here," says Michael Zubal, whose family's Zubal Books has occupied the warehouse since 1973. "We haven't changed it (the penthouse) except to dust it up and wash it off every once in a while.
Continue Reading on Cleveland.com
---
Visit Our Store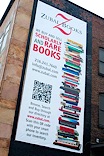 Visiting Cleveland? Live nearby? If so, feel free to stop by. We have a section of about 2500 browsable books mostly in the areas of art, photography, military, entertainment, history and oversize books. The best part is that each book is only $5.00. Please email or call (216-241-7640) to arrange a visit during normal business hours.
View directions to Zubal Books
---
Bookjacking Level II
I spend about 35 hours a week pricing our incoming books by using Abe.com and Amazon.com. Over the last few years, I've noticed a very strange trend. For almost EVERY modern book that I handle (which mostly happen to be books published by scholarly and university presses), not only does Amazon display a record that contains an ISBN (which I will refer to as a LEGITIMATE record), but also several identical records that do NOT contain ISBNs (which I will refer to as ILLEGITIMATE records).
---
The underside of the iceberg: major thefts from a small repository
Abstract: In 2006 the firm of Zubal Books discovered that materials consigned to them were likely the property of the Catholic University of America Libraries. This alarming event provided an opportunity for the book firm and the rare books curator to work together for the repatriation of the stolen books. It also made the institution more aware of the problem of missing materials which had left the library by various means over many decades and found their way to other collections across the globe.
The authors, who collaborated on this case, reflect on the professional bonds formed by the events of 2006 and the benefits of cooperation between booksellers and librarians in combatting theft from libraries. At the same time the authors urge more consideration of the obstacles to such successful collaboration and posit some suggestions for discouraging theft and resolving matters of contested ownership. Crucial in this effort is the library world's responsibility to combat the plague of theft, a commercial problem which threatens the existence of the book trade and an ethical question which undermines the credibility of librarians as guardians of cultural property.
---
Security, Inventory, and Provenance
Confronting the hidden truth about theft in libraries
The August 16 session on theft in libraries, sponsored by both the IFLA Strategic Programme on Preservation and Conservation and its Rare Books and Special Collections Section, was well-attended by curators of rare materials from around the world. Bringing together librarians, booksellers, and a law enforcement specialist, the panel offered many recommendations on how to curtail theft and what to do when it is discovered.
---
Interview with AbeBooks' 'Heritage' seller Zubal-Books
May 20th, 2016
To celebrate AbeBooks.com's 20th anniversary in June, we are profiling one of our 'Heritage' sellers, Zubal-Books from Cleveland, Ohio. Any bookseller who joined our marketplace in 1996 is classified as a Heritage seller.
Read Article.
---
Crain's Cleveland Business - "A Novel collection"
March 20th, 2016
Crain's Cleveland Business talks with Mike Zubal about rare books.
Read "A novel collection".
---
Zubal Books: Best Kept Secrets on New Day Cleveland
---
Zubal Books: In the Neighborhood
---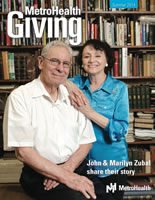 John & Marilyn Zubal share their story...
Published in MetroHealth Giving
"We try to get the books to the people that need them."
Continue reading. View PDF
---
Zubal Books Advises Buyers to NEVER Purchase From Bookjackers
Bookjackers: Who they are, what they do, and why YOU should NEVER purchase from them.
We've been selling books online since about 1995. Over the years we've seen many changes in our own company as well as at sites like Abebooks.com, Amazon.com, and Alibris. One of the worst developments has been the rise of the BOOKJACKERS.
---
At Zubal Books - 18 years after closing, Twinkie 'sauce' sticks in pipes
One of the Zubal Books warehouses is still pumping out Twinkie "sauce," even 19 years after the factory assembly line closed.
---
Travel Journal - California (book) dreamin'
Part 1, August 2012
In early January I received a phone call from a woman in Southern California who had a few thousand books for sale.
Continue Reading California (book) dreamin'
---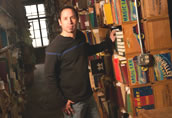 Zubal Books Article at Fresh Water
The Bookseller: Four Million Books Right Under Our Noses
"If the printed book business is dead, don't tell Mike Zubal. Swaddled by books since birth, Zubal has spent all of his 47 years surrounded by the printed page...."
Read Article
---
Video Interview with John Zubal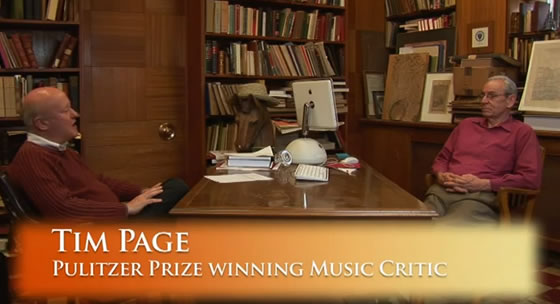 Tim Page interviews John Zubal, founder of Zubal Books. Watch the first part below.
---
Zubal Books on Robin Swoboda Show
Get an inside look at Zubal Books.
---
Travel Journal - April 2010
Mike is on a mission to purchase books in San Fransico.
Continue Reading Act 1 of the Mike's Travel Journal
---
Travel Journal - Act 4
The next report as Tom and friends set out to purchase quality books.
Continue Reading Act 4 of the Travel Journal
---
New Online Rare Book Room

Our new online rare book room! Inside you will find scarce titles in all fields including illustrated books, first editions, the sciences, history, and periodicals.
---
Anthony Bourdain Visits Zubal Books
Anthony Bourdain visited us on what was probably the coldest day in January 2007. Our good friend Harvey Pekar, creator of real-life comic American Splendor, felt it important that the Travel Channel personality spend a few hours with us. That meant an hour-long tour through what is mostly unheated warehouse, where large portions of our stock are shelved. Besides Harvey, Bourdain was accompanied by his producer, three cameramen, and writer Michael Ruhlman. Ultimately the three-hour taping was distilled into a five-minute segment of the Cleveland episode of No Reservations.
Continue Reading about Anthony Bourdain's visit
---
The Bad Words of Bookselling
At least once a day someone contacts us regarding the potential sale of the Bible that they found in the attic or basement. The caller usually starts with "I have a really old book, would you be interested in it?" The expectant lilt to their voice betraying the dollar signs in their eyes. "Well," the process begins, "age is not really of primary importance as far as we're concerned. What is the title of the book?" A snort of disbelief is followed by "This is a bible from 1885 that was my Grandmother's.
---
How NOT to Store Books
We were called to an estate in an eastern college town to view "grandfather's books." Ms. Rome and her brother met us at the side gate and we were offered coffee and weather-related conversation before the book viewing was to begin. Having already enjoyed breakfast at a local diner, we declined and asked if we could move on to the library.